Posted on March 08, 2012 by RevStu
To be honest, I thought I was bound to have missed the boat. When you hear about fire-sale bargains on the internet, you tend to find that they're long gone by the time you actually get to the shops, cleared out by swarms of discount locusts. But when I took a wander into Bath city centre today after reading of GAME and Gamestation's last-throw-of-the-dice stock clearance, I didn't exactly have to fight through crowds.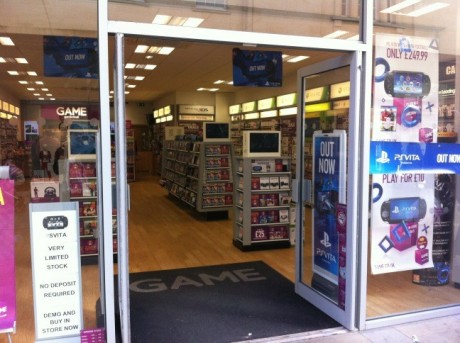 That didn't, by any stretch, mean that they were out of the good stuff, though.
I'd mostly been hoping to pick up a copy of Gunblade NY/LA Machineguns on the Wii (which I've come close to buying several times when it was in a two-for £12 offer) for £1.98 but it was one of the few things that actually was out of stock instore as well as online. But even someone like me, whose interest in the mainstream console market has almost completely died and who can't tell any of the 5000 grey space-marine-'em-ups apart any more, managed to spend some cash anyway.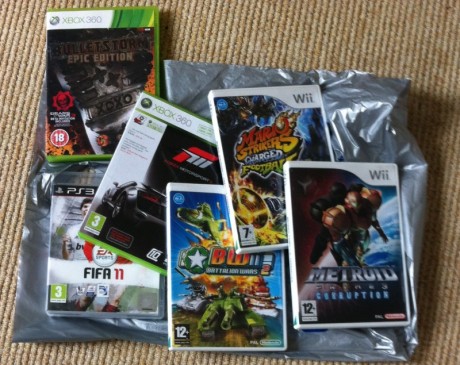 First stop was Gamestation, where I effectively picked up everything in the picture above for nothing, as I had £12 left on a store card from an abortive attempt to trade in stuff so I could buy a preowned Super Mario 3D Land or Mario Kart 7. (Abandoned because even when I got money on the card they never had any preowned copies of either game in.) Since it seems overwhelmingly likely that GAME is heading down the dumper, it needed spending anyway while it was still worth something.
The full £11.90 list is FIFA 11 (98p), Bulletstorm Epic Edition (£2.99), Metroid Prime 3: Corruption (£1.98), Forza Motorsport 3 (£1.98), Battalion Wars (£1.98) and Mario Strikers Charged Football (£1.98). I left other stuff on the shelf, like Bionic Commando at £1.98 and Dark Void at 98p – the prices were so silly I even came within an ace of buying a WWE Smackdown game (at 98p) just for giggles before I came to my senses.
Then it was off to GAME to try out some of the big-name franchises that have completely passed me by in this gaming generation. There was plenty of choice, and again I left a ton of stuff behind, but I ended up with these: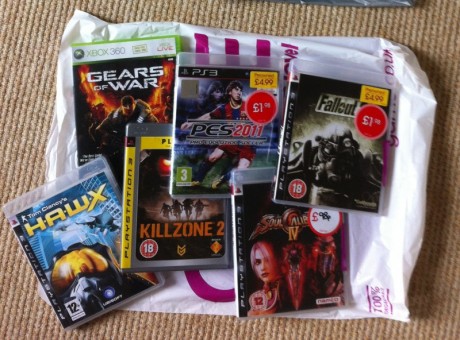 That's Gears Of War (actually meant to buy the sequel at the same price, doh) for £1.99, Killzone 2 (48p), Fallout 3 (£1.98), Tom Clancy's H.A.W.X. (£1.98), Soul Calibur IV (98p) and PES 2011 (£1.98), for a total outlay of £9.39.
That's around £500 worth of top-rated current-generation gaming at original release prices, for £21. And perhaps more pertinently, for £21 that I'd never have spent in GAME normally. I never even go in there these days (unless it's raining), because I'm never going to buy anything so why bother looking? In the last two years I've spent maybe £500 in the App Store, so it's not a lack of willingness to hand over money for games. I just don't like being ripped off.
And yet still, neither game retailers or publishers have learned that the vast majority of their products are ridiculously overpriced. For every Call Of Duty that makes a billion quid on day one, there are about 500 other releases that basically have no chance of getting anywhere near enough people to spend £40-50 on them to recoup their development costs, and that casino-economy idiocy has brought us to the situation where it doesn't look the multi-zillion pound videogames industry is going to be able to sustain a single dedicated High Street presence.
Meanwhile, Apple is selling top-quality games for 69p and is worth more than the whole of Poland, and richer than the US Government. It's a mystery, eh viewers?