Posted on October 25, 2012 by RevStu
Below is the originally-published version of an article entitled "A Table Of Doritos", which appeared on Eurogamer this week, before being censored by the site following a complaint from Lauren Wainwright, who was mentioned in the piece. Lauren Wainwright is a journalist whose entry on Journalisted includes Tomb Raider publisher Square-Enix in the roster of her "current" employers.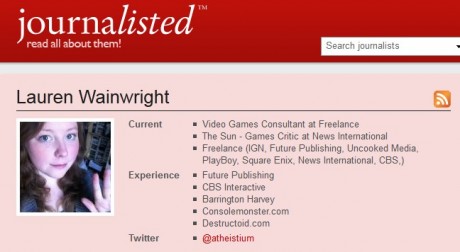 WoSland republishes the article here, without the permission or knowledge of either Eurogamer or the article's author Robert Florence, in the interests of news reporting. It is unedited save for the fact that we've highlighted in bold the passage that Eurogamer removed. If it's libellous, as Lauren Wainwright claims, we invite her to sue us.