Posted on February 25, 2012 by RevStu
Alert WoSland viewers won't need telling that there's nothing this blog enjoys more than a hearty slice of metagaming, and there can be little rational disputing that the modern-day maestro of the form is cranky old code-grump Jeff Minter. The ruminant-loving curmudgeon has just released another retro-flavoured reference-rammed remake onto the App Store, and it's his best work yet.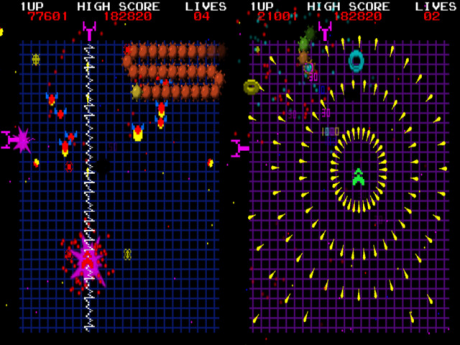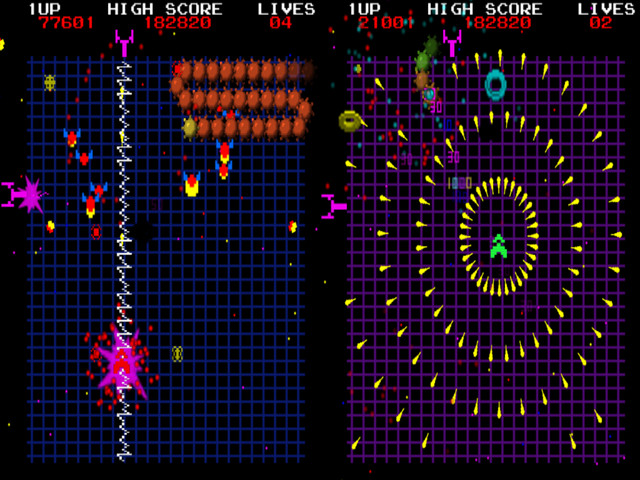 iOS Gridrunner is the latest in a long line of remakes of Minter's veteran Centipede derivative, and it's a brilliant interpretation. A tiny (12MB) universal app offering both iPhone/iTouch and iPad versions for a single 69p payment, it's got the VIC-20 and C64 games thrown in as bonus freebies and it also supports the iCade. Frankly you'd have to be some manner of total spoon-faced klutz to pass it by.
It's an all-action blast, and while we wouldn't say the MOST fun you can have with it is spotting all the bits he's nicked from classic 80s coin-ops, it's certainly an entertaining diversion. We're bound to have missed loads, but below are all the ones we've spotted so far. See if you can find any that slipped our notice and we'll make a definitive list.
Slow-moving bomb: Space Firebird
Flying saucer and spinning red/blue robot: Uni War S
Most in-game sound effects: Moon Cresta
Sheonite, Kapi and Brag Zakato enemies: Xevious
Pod and Swarmer enemies, end-of-level sound effect: Defender
Insert-credit sound: Galaxian
Warp power-up/speech sample: Astro Blaster
Not yet identified: various effects and the "Thank you" new-life speech sample. Sounds like very early-80s Sega hardware but we can't pin it down. Anyone?