Posted on December 13, 2012 by RevStu
The office is the coldest room in my house. Facing north it doesn't get a lot of sunlight, and the radiator is directly underneath the window, so much of what heat it generates disappears outside immediately. So I have a little halogen heater to keep the place cosy in winter, which also gives off a bright and pleasant firesidey glow and saves you having to turn the light on then wait 45 minutes for the useless "energy-saving" piece of shit to actually reach some sort of vaguely worthwhile level of illumination.
(Never mind about the Iraq war – I'd put Tony fucking Blair in prison for the rest of his life just for robbing us of proper lightbulbs, the wanker.)
The heater has three replaceable halogen elements. This is the process for replacing one of them (click to see the whole thing):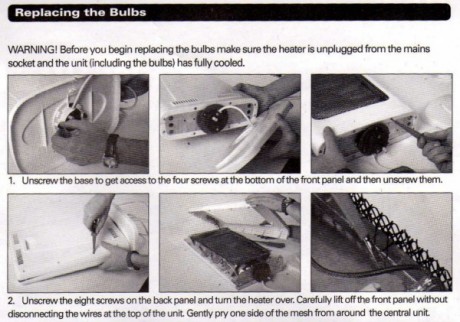 I have two questions for the manufacturers.