Posted on October 30, 2012 by RevStu
"Those who have been angry about all this – don't investigate the people, investigate the system." (Robert Florence, writing on John Walker's blog last week.)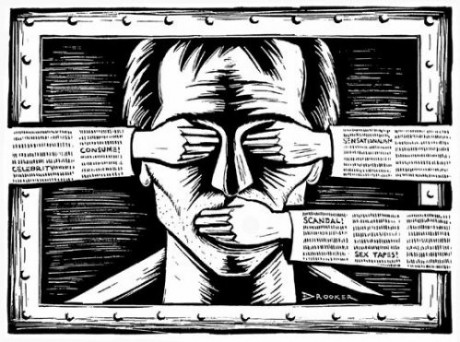 Let's see what we can do, eh?
To understand the events last week which opened a can of worms in the world of videogames journalism on a perhaps unprecedented scale, we need to look at the people and organisations involved. Only by painting as full a picture as possible of the entire culture of the games industry do we have a hope of seeing how it works.
But let's start off by examining the cast of participants in this particular drama and then try to figure out where we can get to from there.
—————————————————————————————————————
INTENT MEDIA

Intent Media is the publisher of games trade weekly MCV, and the organisers of the GMA awards. (It also owns 18 other trade newspapers and runs many other events.)
STUART DINSEY

Dinsey is the founder, managing director and 67% controlling shareholder of Intent Media. He's been involved in the games industry trade press for over 20 years, and has carved himself out a very sizeable empire. A former editor of now-defunct trade paper CTW, he drove it out of business with MCV and cornered the market for himself. He's the only person at Intent Media with the ultimate authority to launch a potentially-expensive court case for libel.
MICHAEL FRENCH

French is the Editor-in-Chief at Intent's games-industry titles MCV and Develop. He tweeted that "there was no legal action by Intent" over the Wainwright affair, but despite numerous questions has, at the time of writing, refused to clarify whether any was threatened.
LAUREN WAINWRIGHT

Heavens, where to begin? A low-ranking employee of Intent, where she works as a Staff Writer for MCV. Wainwright's actions over the last week have been extensively documented on the internet, and we do mean extensively. Since initially complaining about Florence's article, she's locked her Twitter account, deleted critical comments, edited her Journalisted page to remove her own claims about working for Square Enix, and removed her LinkedIn profile, including the Google cached version. A retrieved version of it can be read here.
We can only guess about the reason for the removal of the profile, but the only "incriminating" part would appear at first glance to be the entry where Wainwright describes herself as a "Video Games Consultant (Freelance)".
She describes the function of such a person as to "Produce mock reviews in house and inform video game publishers of potential critical reception and community reaction to their products." She helpfully gives the dates for this occupation as "November 2011 – present (1 year)", which appears to clearly identify it as a current job, despite her full-time position at Intent.
Wainwright's deleted LinkedIn page also, until yesterday, claimed she was a current freelancer for CBS Interactive (writing for Gamespot), News International (writing for The Sun) and others. We know from the revelations of last week that she's reviewed numerous Square Enix titles for the Murdoch-owned newspaper, and that the only company she's known to have done "consultancy" work for is Square Enix.
EUROGAMER NETWORK LTD

ENL is the publisher of a worldwide series of gaming websites, reaching over 10 million unique users every month, and the organisers of public events like the Eurogamer Expo. Affiliated to various other sites through an advertising arrangement, including news site VG24/7 and PC games site Rock, Paper, Shotgun.
RUPERT LOMAN

Secretive founder, owner and Managing Director of ENL since the network's creation in 1999. Has made absolutely no explicit comment about the incident, with the possible exception of one ambiguous tweet reading "Just ate a pulled pork sandwich so tasty it almost made me forget about all the absolute bullshit in my inbox today. Almost."
TOM BRAMWELL

"Operations Director" and "Editor-at-large" at ENL. The decision to censor Florence's column could only have been made by either Bramwell or Rupert Loman. Eurogamer's amended page containing Florence's column stated that "Following receipt of a complaint from Lauren Wainwright, Eurogamer has removed part of this article".
Speaking to Penny Arcade, however, Bramwell claimed that "Lauren told us that she intended to pursue the matter with her lawyers and made it clear she would not drop it until it was resolved to her satisfaction".
—————————————————————————————————————
At this point, we run out of certain public knowledge about Intent and Eurogamer, and can only speculate. However, it's probably safe to say that despite boasting of her "media law module" in a tweet at the beginning of the controversy, Wainwright would lack the resources to pursue a libel case without the backing of her employer, as it's one of the most notoriously expensive actions to bring to a British court.
That fact appears to leave us with only one plausible conclusion. Eurogamer's own Operations Director has explicitly said there was a legal threat (something he's reiterated in a statement today just minutes before we were about to publish this post), despite the website having previously only admitted to changing the piece after a "complaint". Given the vast costs of a libel case, it seems hugely unlikely that experienced professionals such as Bramwell or Loman would treat as credible a threat from a lowly staff writer like Wainwright on her own. Therefore, we must assume that the "lawyers" mentioned by Bramwell would have been those of Intent Media.
As previously noted, the extremely high costs involved in a libel action seem far outwith the probable authority of Michael French. Therefore, it seems inescapable that Stuart Dinsey threatened to bring the considerable financial muscle of Intent Media to bear on Eurogamer Network Limited, and Eurogamer – either in the form of Bramwell or Loman – caved in under the pressure and ordered the censorship of Florence's article, leading to his resignation.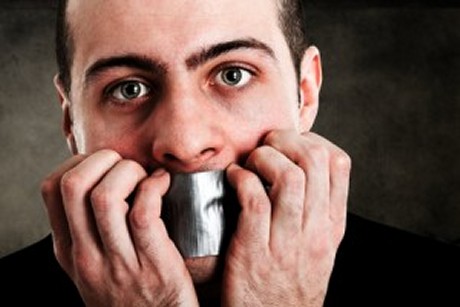 So that's the small picture. But how did we get to such a position? And why would Intent take the risk – even a small one – of having its bluff called and being forced into a cripplingly expensive and damaging court case it would have no realistic hope of winning? (Because for all the many flaws of English libel law, Wainwright's case was paper-thin at best. Florence's comments about her were innocuous, heavily-qualified and based on her own public comments.)
Once again, we can only speculate. But it's clearly in the interests of Intent for the relationship between videogame publishers and videogame media to be a cosy one – such a situation is one of the openly-stated goals of the Games Media Awards, in which PR executives of games publishers still vote to give games journalists enhanced public profiles.
If nobody rocks the boat, games publishers make plenty of money and advertise in Intent's trade publications, providing the vast bulk of its income. (As MCV was given away free for the first several years of its life it's possible to make fairly secure assumptions about its business model.)
But the publishers have to play their part in keeping the boat steady too, which is why non-compliant behaviour from the videogaming press often results in retribution. Experienced games journalist Justin Amirkhani got in touch with Wings Over Sealand to reveal the reality of his years in the industry:
"I can't claim to be completely innocent of the muddy waters (I worked for a year as Microsoft's Xbox.ca community blogger), but holy shit you hit the nail on the head. I feel so grateful now to live in a time where I can crowd-fund my work, taking [away] the need to pander to advertisers, cooperate with PR people, and bend over backwards for anyone but my readers to make a story happen.

I've been through it all; had review scores changed by editors, had reviews pulled when PR put pressure on the outlet, even been fired from one job because I got blacklisted for being negative about a game we'd been given special access to. This industry may be pixel perfect on the outside, but I encourage everyone, reader or journalist, to seriously think about what's being written, and more importantly why."
Such pressures are usually kept behind the scenes, but occasionally they leak out into public view. Let's quickly take a look at a few examples.
ELECTRONIC ARTS

Sent out questionnaires demanding to know whether potential reviewers already liked Battlefield and Call Of Duty games before sending out review copies.

SQUARE ENIX

In one of the most famous controversies over reviewer intimidation, Gamespot editorial director Jeff Gerstmann was fired over his review of the publisher's title Kane And Lynch.
ACTIVISION

Blacklisted a games website, withholding all review materials, invitations and co-operation, after the site published a news piece which hadn't been officially approved by the company. Or in other words, for practicing what might be called actual journalism.
2K GAMES

Employed a PR company who threatened to withhold co-operation from sites that had published negative reviews of the widely-slated Duke Nukem Forever. Reporting the story, respected tech-news site Ars Technica noted that such "blacklists are common, but rarely public".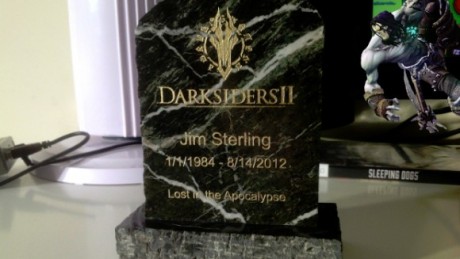 But PR, of course, prefers as a rule to employ the carrot rather than the stick. Marvel at the hospitality lavished, for example, on a pretty minor website during this randomly-chosen but not untypical press trip, and the subtle pressures accompanying it. (Emphases added.)
"For us fans of Hellgate, having spent the three prior years in a closely knit community that spanned several fansites and several continents, the chance for us to finally meet up in person was an opportunity that none of us wanted to pass up.

Having flown a distance of 8,000 miles in 26 hours, I should have felt fatigued by the trip, but my excitement kept me awake and energized across the three days I spent in San Francisco.

We stayed at the Marriott in SOMA, close to Flagship's offices which was across the San Francisco Giants ballpark. Having gotten our room keys and completed our impromptu meet and greet session at the hotel's lobby, the first thing we did was to play a game of Munchkin to settle in as we talked about Hellgate: London."
…
"Luckily, time flew by and we were called down by an EA representative to meet some of the game's designers. We walked to a nearby restaurant, the Thirsty Bear, we were treated to an awesome dinner with almost unlimited servings of every Spanish dish the place had to offer. We satisfied ourselves with wine, beer, and other beverages as the dishes kept flowing in."
…
"After our dinner, the group of us went out for a night on the town with the game's creators. We met up with some of the Hellgate: London development crew and went to a club where we would spend from sundown to sunrise drinking, talking, and dancing. Although Hellgate was still fresh on our minds, the night had little to do with the game that brought us together. We talked about other video games, fantasy novels, and current events. In the back of our minds, though, the purpose of the outing still lingered; tomorrow would be the first time we would play the game. We burned through the hours at the club at a rapid pace, drunk on a special mixture of alcohol and anticipation."
…
"Following the Q&A, we were given t-shirts (several of which I still own), and we signed a non-disclosure agreement about the live content that we were about to experience. We were given the opportunity to play the game for several hours, assisted by the developers, who excitedly showed us the ropes and watched as we made our way through the game's developed content. We bantered and they observed how we played the game.

This, however, is where the eventual pit in my stomach started. Even though it was my first time playing the game, the experience was a little underwhelming. The combination of finicky movement controls, unfinished character animations, and an underutilized setting set the stage for my initial disappointment. I liked what I saw, but I had my doubts; it didn't seem polished enough and it wasn't quite what I expected. But I remained silent; I felt as if speaking negatively of this game would be a betrayal to the friendly studios I just visited and my recent drinking buddies. So I kept quiet, and continued on with my experience."
The mechanics of the process are pretty obvious. Flown halfway across the world, accommodated in pricey hotels, plied with food and drink and gifts and taken out partying, the writer is hopelessly compromised by his new-found friendship with the publisher and developers, to the extent where he feels like expressing his honest opinion would be a "betrayal".
The results of this sort of close-quarters relationship are journalists like David Scammell, the Deputy News Editor of GMA winner VideoGamer.com.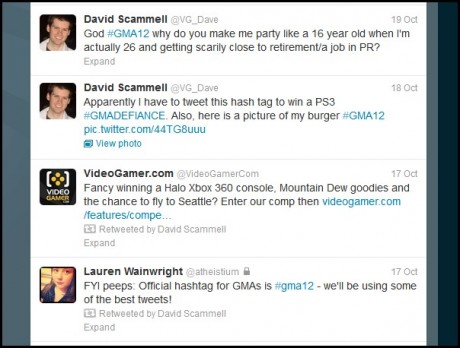 Scammell's Twitter account could almost have been designed to provide a handy at-a-glance guide to the mindset of the modern games-media worker. Aggressively demanding the early and exclusive access which enables publishers to hold gaming sites to ransom, hankering impatiently after a job in the better-paid world of PR, and eagerly joining in with the "hashtag" promotion that sparked Florence's article for Eurogamer in the first place, Scammell has it all. And by a strange coincidence, he also appears to be Lauren Wainwright's boyfriend.
(We say "appears to be" because while we've been told it's the case, we can't find any "official" confirmation of the fact. However, it's hard to think of any other explanation for the otherwise bizarre and unrelated mention of Wainwright in this MCV story about Scammell joining VG.com. EDIT: Wainwright's Facebook page confirms it.)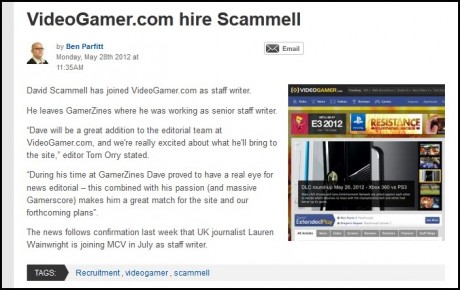 As Robert Florence said in his guest post for John Walker, it's unfair to single out Wainwright and Scammell particularly, because they represent very much the mainstream attitude in modern games journalism. Wainwright has merely made herself the idiot poster girl for it by her ongoing series of terrible decisions, and by being such a showroom example.
Her having a job in games writing at all is attributed, by Wainwright herself, largely to Korina Abbott, a former Ubi Soft PR exec who then worked for Square Enix at entirely coincidentally the same time as Wainwright was both serving as a "consultant" to the company and writing a stream of gushing articles about its products for several publications that were barely distinguishable from press releases.
(Accusations of writers being "in bed with" PR types are commonplace in all sorts of journalism, but rarely are they literally true, as they are in one of the few pieces of her internet history Wainwright hasn't deleted yet.)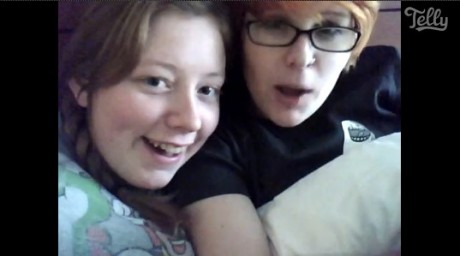 But it's easy to see why the games industry and the games media benefit from cuddling up closely together. The real question is why the gaming public puts up with it, and that's where our big picture turns into a mirror. A couple of days after the storm broke, Robert Florence tweeted half of the answer:
"Readers need to understand that their rabid demand for EXCLUSIVE FIRST LOOKS!!! make it easy for PRs to control the content they read"
That statement's at least partly true, although in 21 years as a journalist I've never been quite convinced that readers care even a tenth as much about "exclusives" as magazine publishers do. (Writers tend not to give much of a toss about them either, in my experience.) But it's certainly the case that whoever's driving it, the "news"-focused approach of the majority of big gaming sites is the main thing that hands the balance of power firmly to the PR people acting as information gatekeepers.
But why is games journalism now so focused on tightly-managed "news" released by marketing departments in a careful, slow drip? Lauren Wainwright, the new figurehead of the rotten ship of churnalism, has the answer again (click on the image for context):

If you're a website whose revenue is entirely based on pageviews and clicks, you need to spew out content round the clock to survive, and you can't produce that volume of copy just from interesting, informed features and time-consuming in-depth reviews. You need filler, and tons of it, and since you're not going to be able to afford to send staff out to source it for themselves, you need to have it spoon-fed directly from the horse's – well, "mouth" seems a bit too dignified for what we're shovelling here.
Games journalism is terrible because gamers are getting what they're prepared to pay for. As we said a year ago, games journalists are merely serving the people who pay the bills, and that isn't the readers any more, because they demand all their journalism for free. If you're not even prepared to pay peanuts, you're going to get something less than monkeys. Though on the upside, you'll at least get a near-infinite supply of them, prepared to hammer away at their infinite typewriters for the sheer thrill of a review copy and a free t-shirt or two until they either get their own PR job or burn out, to be replaced from a willing cast of millions of fresh faces.
(Those last two links, incidentally, come from a poorly-written fanblog that somehow got nominated for a GMA. It's difficult to imagine how it found itself elevated to such dizzy heights, at an event mainly voted for by PR people. Oh, wait, no it isn't.)
Until that changes, Intent Media and their ilk will control games journalism, and no criticism from naive outsider idealists like Robert Florence will be permitted.