Posted on October 28, 2012 by RevStu
The quotes below come from an April 2007 piece entitled "And The Winner Is", concerning the inaugural Games Media Awards of later that year, written by Kyle Orland for GameDaily.com. The site no longer exists, but you can still read the article via the ever-handy Internet Wayback Machine.
""We actually found a lot of people in the games media don't feel well recognized by the industry they served," said Stuart Dinsey, Managing Director for Intent Media and the brains behind the awards show. "We felt this was a good way to give them some of that recognition and have a great party for everyone to get together at the same time."

"As for the all-important judging itself, Dinsey said the exact process was still being tweaked. Dinsey added that he'd like to get votes from "all the leading companies" in the games industry, probably by asking PR representatives to consult with their colleagues and place a vote to represent the company as a whole. Dinsey said the exact makeup of the judging panel will be kept secret until after the voting is done, to prevent any quid pro quo situations from developing."

But the mere specter of industry voting was enough to give some members of the press pause about the awards. "The games industry are the last people who should be voting for awards in games journalism," said British game freelancer Kieron Gillen. "It's a bit like the prisoners voting for who's their favourite prison guard." Gillen said he worries that the industry voting will make the award one "you wouldn't want to win…. because it's basically shorthand for 'Lapdog Of The Year award'.""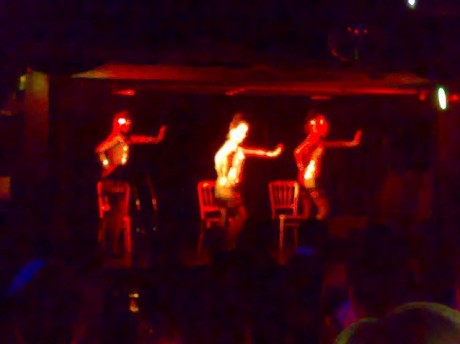 (Despite these comments, Gillen accepted a GMA that very year, and this month pocketed the "Games Media Legend" prize to bookend it with. He attempted to justify his instant U-turn the day after the 2007 award by saying "The awards don't really matter. PRs are fine. They're just people." In a fine twist of irony he now pontificates at highbrow public events about how independent games journalism is of PR, and is also a judge in the "Games Journalism Prizes" awards, along with a number of other "concerned games industry types", several of whom are also GMA winners.)
Now the owner of the PR-driven GMAs uses their power to censor journalists with legal threats for expressing honest opinions and accurately quoting people's own public comments to illustrate a valid and fair point. Now maybe we're just old and bitter (well, there's no "maybe" about it), but it seems a pretty odd way of "recognising" games journalism to us. Unless, that is, you ponder who voted on the first GMAs (and still vote on them now), and start wondering to yourself exactly which industry it was that Stuart Dinsey meant when he said "recognised by the industry they serve".