Posted on February 24, 2012 by RevStu
As a concept, digital distribution – particularly of videogames – is a wonderful thing. It should, and sometimes does, reduce prices dramatically by cutting out the need for physical manufacture, stock inventory, distribution and retail middleman. (Which in turn can also make niche genres economically viable.)
It can be, and usually is, much more convenient too – there's no need to mess around with noisy, slow-loading discs or worry about getting them scratched or losing them if all your content is right there on an instantly-accessible hard drive.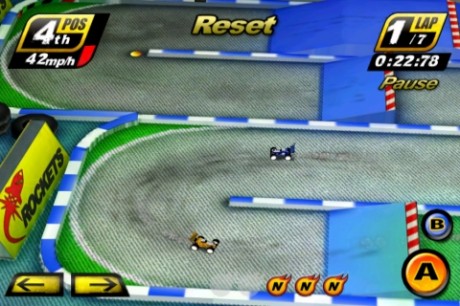 The only problem with digital is that it cedes control of your software library (and therefore all the money you've invested in it) to business, and business is evil.
Many of the facts supporting that assertion are well demonstrated. In the PC market, the spread of ludicrous DRM that won't let you play even single-player campaigns without being connected to the internet. On mainstream consoles, it's things like Sony's insane PSN download pricing structure, often charging vastly more than shop prices for a game that's measurably less valuable than its physical counterpart, because you can't resell it when you're finished with it.
More recently, though, and primarily on Apple's iTunes Store, we've started to see a more insidious hazard of trusting companies with your money – outright fraud.
Some of it is relatively crude and obviously underhand – the fake Pokemon game that recently shot to the top of the charts, or the many cynical attempts to fool users with soundalike app titles. But even the most respected publishers aren't above openly stealing your money.
The UK's most famous left-wing "quality" newspaper The Guardian, for example, released an app just over two years ago which sold for a one-off payment of £2.39 (which is fairly premium-priced in iOS terms). Many thousands of people bought it in good faith, but when the Guardian decided that their one-off payment wasn't enough, it simply discontinued the app and brought out a new subscription-based one. The original was first updated to force users through a nag screen for the new subscription service every time they loaded it, and then stopped working altogether with iOS 5.
The interesting thing all the above scams have in common is that according to Apple you have no right to any sort of refund. Write in to ask for your money back – since the item you were sold was not fit for purpose – and you'll get a reply including this line:
"According to the iTunes Store Terms of Sale, all purchases made on the iTunes Store are ineligible for refund. This policy matches Apple's refund policies and provides protection for copyrighted materials."
Alert UK readers will be aware that this is a clear breach of trading law – under Section 14 of the Sale Of Goods Act, any item sold by anyone anywhere that is unsuitable for its advertised function MUST be repaired, replaced or refunded – and Apple's terms and conditions are not enforceable where they conflict with statutory consumer rights.
But even that's not the App Store's most insidious form of robbery.
Just a few months after the first Guardian app came out, Spanish developer Bravo launched an acclaimed racing game at the same high-end price point. Touch Racing Nitro was a classic retro-style circuit racer with an innovative control system, and was well received in the press. Despite the (in iOS terms) high price it initially did reasonably well, making the top 10 of the Arcade chart, peaking at No.4 in the Racing chart and squeezing narrowly into the Overall top 50.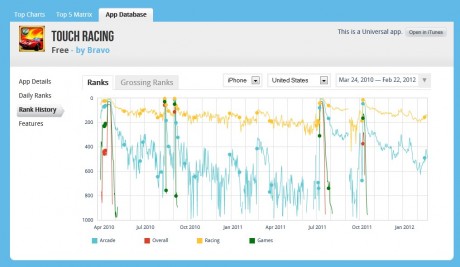 Bravo tried both cutting the price (to £1.19) and increasing it (to £4.99), making little difference to its chart placing, and five months after release tried a promotional free weekend (repeated a few weeks later) which saw Touch Racing rocket into the Overall top 10. Over the next 10 months the developer tried four different price points, again making very little difference to the game's chart position, before an extended free promo followed by a longer-term price cut to 69p boosted it up the rankings again.
Last October the game went free again, and stayed that way for four months. Then the sting came along. About a week ago (at time of writing), the game received an "update", which came with just four words of description – "Now Touch Racing Free!" As the game was already free, users could have been forgiven for thinking this wasn't much of a change. But in fact, the app thousands of them had paid up to £5 for had effectively just been stolen.
Two of the game's three racing modes were now locked away behind IAP paywalls, and the entire game was disfigured with ruinous in-game advertising, which required yet another payment to remove. A barrage of one-star reviews resulted on iTunes, and WoSland wrote a short email to Bravo politely expressing its disapproval:
"How do you justify stealing large sections of a game users have already paid for? If you want to make a free version of Touch Racing with ads and IAP that's fine, but replacing the paid version with it is a disgrace. Some of us have already paid for that content and do not appreciate it being removed by an 'update' which also spews ads all over the place. As a result I – and I suspect many more people – will never buy another of your apps, which doesn't seem a smart business move."
A day later, we got this reply from Ana Hidalgo, Bravo's "Social Media Manager":
"Hi!

Thanks for contacting us.

I'm really sorry about that. I knew that this could happen. The team had no option but to do that.

We're not trying to make money from people who have already bought the game like you did. It is not an excuse, but only 4% of the 2MM downloads have been paid ones. Unfortunately, Apple doesn't provide with any methods to know when an user has paid or not for an app. We just want to monetize the game from that 96% who are enjoying the game for free. Our goal is to monetize them via advertisement. We understand that this is annoying for the players that have paid for it.

Yes, maybe we could have released a LITE version, but if we release a new free version, we couldn't monetize near 2 MM free downloads we already have. And why we have 96% free downloads? A very bad old decision.. We've begun a new phase at Bravo Games and we definitely need some revenues from those downloads.

At the moment all our efforts are focused in new projects. When we finish those projects, we'll evaluate the possibility of adding new content to previous games like Touch Racing Nitro.

I regret to hear that you never buy another of our apps."
Consumers are sometimes accused of a "sense of entitlement" by peevish developers and industry-serving "journalists". (So don't hold your breath waiting to read a feature on this subject on any of the popular iOS gaming websites.) But the sense of entitlement that radiates from Sra. Hidalgo's letter fairly took our breath away. It admits that the "bad mistake" of making the game free for an extended period was Bravo's rather than anyone else's, but that it's innocent users – who quite understandably accepted an attractive free offer – who are to be punished, and paying customers who are going to be caught in the crossfire.
Let's assume that "2MM" is the Spanish way of writing "2 million". If 96% of those were free downloads, that means that a whopping 80,000 people who paid money for Touch Racing have just been screwed. If we assume an arbitrary but reasonable average price of £1.19 (the second-lowest App Store price tier at the time most of the sales were made, though the app has cost at least twice that much for most of its life), that's just short of £100,000 that Bravo have extracted from consumers for what is in effect a "Lite" demo version of the game.
Imagine if the rest of the world worked this way. Imagine you went to Tesco and bought three boxes of Corn Flakes on a "three-for-two" offer, only for a Tesco employee to turn up at your house one day a month later and confiscate not only the "free" box but also the second one that you'd actually paid for. There'd be riots, or at the very least a long court backlog of assault cases and battered workers. Yet apparently, for videogames it's the dynamic economic model of the future.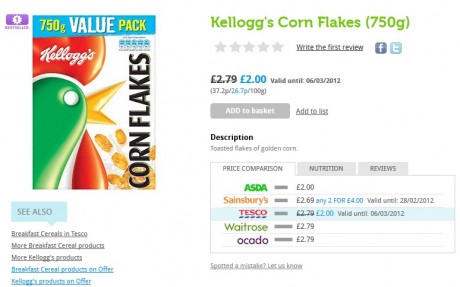 While we can't think offhand of a more heinous or blatant case, Touch Racing is far from a unique one. (The first well-documented iOS example was probably Paper Toss, originally a free game but which was downgraded with ads just before it started to add content.) WoSland is a pretty wily consumer, and currently has eight apps sitting in its iPhone's "update" queue which are never going to get those updates, because the "update" in question is in fact a downgrade, removing functionality and/or adding ads. We've deleted many others altogether for the same reason.
(Apple, with their trademark user hostility, makes rejecting updates an incredibly tedious process, because there's no way of permanently or even temporarily dismissing an update, which means that if you've got even a single unwanted one you can never use the "Update All" button and must instead apply every single genuine update individually, forever.)
And of course, iOS isn't the only place users can be defrauded in this way. Indeed, on consoles it's even worse, because at least you CAN avoid unwanted downgrades on iOS – most games on Xbox 360 or PS3 won't let you play them at all if you decline to apply an update. You might as well just send Microsoft and Sony your credit card numbers and invite them and their third-party publishers to take some of your money whenever they feel like it. (Indeed, you may well have done so already, albeit for slightly different reasons.)
The world of digital distribution is one of infinite promise. But as so often happens as soon as greedy businessmen get their hands on something, that promise is being regularly broken. With every passing day, corporations are reducing, or planning to reduce, consumer rights further and further, ideally to zero. Be careful who you put your trust in, viewers.