Posted on September 24, 2012 by RevStu
The internet is, let's say, a place known for exaggeration. So while the examples of Apple Maps that have been posted everywhere in the last few days were pretty compelling evidence, we weren't going to be absolutely sure until we'd seen it with our own eyes. So once the queues of worthless human refuse had died down, we popped into the Apple Store this morning and had a look.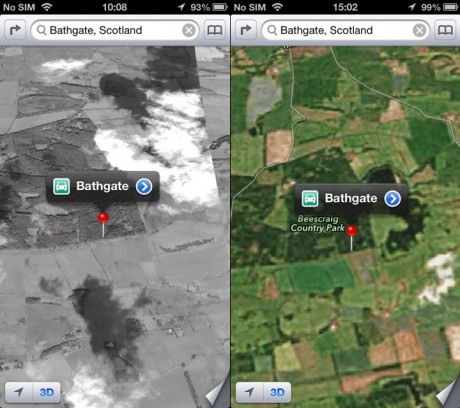 Readers, take everything you've heard about how bad Apple Maps is and double it.
My home town of Bathgate is slap bang in the heart of the Central Belt of Scotland. Situated almost exactly halfway in between Glasgow and Edinburgh, it straddles the country's main east-west motorway, the M8, and is home to around 20,000 people. The image above is where Apple Maps thinks it is.
Bathgate doesn't even merit being in colour when you get down below cloud level. We're not sure where you even get black-and-white satellite images from in 2012 – when were people last taking monochrome pictures from space? – but that's what Apple gives you on your £700 new phone. Zooming out on the shot above, you eventually find that the wooded area the pin is in is what the Maps app calls "Beescraig Country Park" (the name they're looking for is "Beecraigs", but hey, close enough), a picturesque activity area several miles from Bathgate and which is actually classed as part of the ancient Royal burgh of Linlithgow.
When you finally locate the town manually, it's still in black and white, at a resolution so poor I couldn't tell where I was most of the time despite having lived there for almost a quarter of a century, and several years out of date. Just about the only landmark identified was the train station, which Apple Maps thinks is in the town-centre location of the old abandoned station, not the new one a mile away which opened in 2010.
I decided I might have more luck with somewhere bigger, so started looking for my various addresses in Bath, a city of 80,000 that's one of Britain's most popular tourist destinations (and therefore habitually full of people who might not be entirely sure where they're going). Apple Maps put three of them on the wrong streets altogether, and the other one on the right street but 400 yards away from where it actually is. (The old Google Maps app could accurately identify which room of my house I was in at any given moment.) Not a single one of the few locations listed in the city that I looked at was within 200 yards of its real location – though I didn't think to check for the Apple Store, which are all apparently pinpoint.
Bath and Bathgate are both pretty substantial centres of population. For more obscure towns and villages, I imagine Maps just says "HERE BE DRAGONES". It's nothing short of mindboggling that Apple should have let its obsessive, vindictive, insane control freakery reach quite such an obviously destructive level. I felt for the poor woman working in the Bath store who came up trying to help and had to endure my ongoing astonishment at each new horror.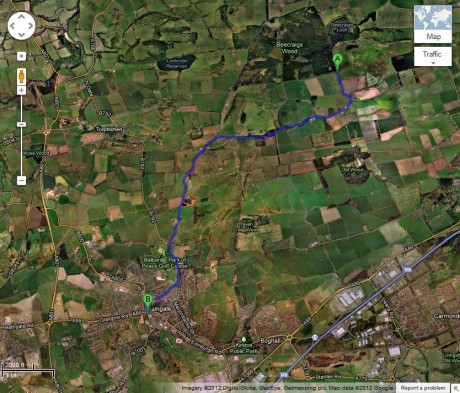 (I got the feeling her apologetic responses were well-rehearsed, and even during the short time I was there I heard them repeated more than once.)
The iPhone 5 itself seems lovely. It really is noticeably lighter and thinner and faster and prettier. Having skipped the 4S I'd planned to upgrade next month for my birthday, but there is no way on God's black-and-white low-res Earth I'm sacrificing the amazing Google Maps for this godawful piece of literally-unbelievable horseshit. Not even if you gave me a pound for every tree in Beescraig Country Park.