Posted on September 19, 2012 by RevStu
31 years ago, when Alan Grant wrote "Strontium Dog: Portrait Of A Mutant" for 2000AD, the notion that the father of a "mutant" child might become Prime Minister and oversee a programme of astonishing, vindictive persecution of the disabled by tormenting them with "work capability" tests and forcing them out of their homes (supported by "scrounger"-hating newspapers published on thin electronic tablets) was a crazy, dystopian sci-fi fantasy for kids.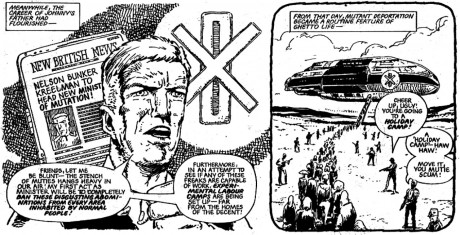 Today, David Cameron presides over a government set implacably on slashing £30bn from the welfare budget (to pay for tax cuts for millionaires, obviously) by cutting housing and disability benefits for the profoundly handicapped and the terminally-ill, ingeniously saving more money by driving many of them to suicide as a result of measures even the Daily Mail is forced to decry as inhuman.
Enjoy watching "Dredd" this weekend, viewers. Keep telling yourself it's only a movie.