Posted on August 22, 2012 by RevStu
Alert viewers will have noticed a drop in the frequency of postings on this blog, and it was a toss-up today between what we're about to discuss and posting some pictures of bizarre confectionery-branded candles. And actually, what the heck – you've not had much in the way of content recently, so let's do both.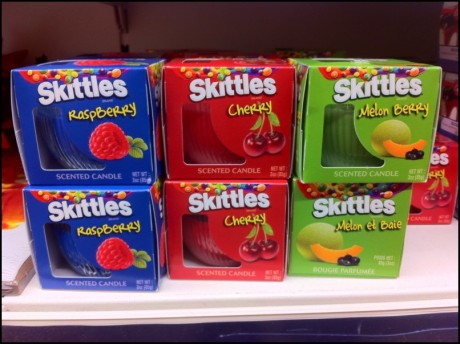 Seriously, what's the story here? Aren't you just basically inviting small children to eat candles? And is there a cherry-flavoured Skittle anyway? Now, about that rape thing.
We weren't present when whatever happened between Julian Assange and two Swedish women happened, so we're not going to offer a view on whether it did or didn't constitute rape. We're also not going to probe into the somewhat suspicious procedural circumstances of the allegations, because, y'know, feminists.
Because what's really dismaying about the case is, as usual, the counter-productive stupidity of most of the people commentating and agitating about it. There have been some sane pieces in the media, such as this one by Seumas Milne in the Guardian and – somewhat to our surprise – this one by Laurie Penny in the Independent, but most of the coverage has been a predictable outpouring of fundamentalist moralising, usually underpinned by categorical assertions of guilt and a generous sprinkling of constructive and always-helpful terms like "misogynist" and "rape apologist".
Let's be absolutely clear and unequivocal: Julian Assange should face trial over these serious allegations. However, in order to do so he should not be compelled to risk his life, and in the present circumstances that's a circle which simply can't be squared. Numerous blogs and newspaper articles have sought to "bust myths" around the issue, of which this is one of the more restrained examples, but all of them have missed the point. So let's in turn bust a couple of THEIR myths.
"If the US wanted to extradite Assange it would be easier to do so from the UK than Sweden, so he shouldn't be trying to avoid going to Sweden".

This is technically true so far as it goes. The UK's relationship to the US in terms of extradition is that of a particularly timid poodle to its owner, and extraditing Assange from Sweden would require a three-way judicial negotiation rather than a two-way one. However, the scenario by which Assange is extradited from the UK to the US ignores the reality of international relations.
The US and Sweden are allies, and taking Assange directly from the UK to face trial for espionage would be a diplomatic disaster for the US, because it would knock the rape allegations completely out of play. The alleged victims would never see Assange face justice for what they claim he did to them, because once taken to the US he would never leave it. As Laurie Penny puts it in her piece, "nobody should have to stifle one set of principles in order to allow another to live".
The cat is pretty much out of the bag already as far as Wikileaks is concerned. The US wants to put Assange in jail, but not enough that it would court international condemnation and infuriate Sweden by trampling all over its legal system to do it. Perhaps more importantly, doing so would make Assange a martyr, because the issue would then become entirely about Wikileaks and his treatment by the US – somewhere he unquestionably holds the moral high ground – and relegating the rape allegations to an irrelevant footnote.
"But he's safe from extradition anyway, because Sweden and the UK both forbid extradition of anyone facing the death penalty."

Oh dear. Let's assume for a moment that we could trust the US not to promise Assange wouldn't face the death sentence, then put him in a capital trial anyway. And let's assume that they didn't instead arrange to conveniently "Jack Ruby" him either. Let's assume for the sake of argument that they play by the rules and just put him in prison.
Bradley Manning, the Wikileaks suspect the US have already managed to get their hands on, has been detained under extraordinary and unhuman conditions for over two years without trial. There's no reliable way of asserting that Assange – the organ grinder of Wikileaks, rather than just a hapless and vulnerable informant – wouldn't be treated similarly, or even worse. As the continued operation of Guantanamo Bay (which President Obama pledged to close within a year of his election) shows, the USA's commitment to basic human rights is basically zero.
Years would be likely to pass before he faced trial, if he ever did. And when found guilty (let's not go completely crazy and imagine he might be tried but found innocent – there are limits) he'd be shoved in a brutal "supermax" prison for what would in practice amount to the rest of his life.
The offences Assange is accused of in Sweden are at – batten down the hatches, folks – the lesser end of the rape scale. Even if convicted he'd be unlikely to face more than a couple of years in a pretty civilised Swedish prison at the most. One may regard that as overly lenient, but under Swedish law as it stands his certain fate in the US is vastly disproportionate to the severity of his alleged crimes against the two women.
It's all very well for those of high-minded principle to assert that Assange must run that risk in the name of integrity and justice, but we feel confident in asserting that they would be of a different opinion entirely if they were to find themselves in his shoes. It's a fundamental human right, protected by laws worldwide, that nobody should be obliged to place themselves in peril beyond that for which they are legally culpable.
The only way that Assange could be put inescapably behind the eight-ball would be if Sweden gave a binding commitment not to extradite him to the US on the espionage charges. That would leave him with no legitimate grounds whatsoever to resist his removal to Sweden. But David Allen Green in the New Statesman piece linked above tells us that such a commitment cannot be made under Swedish and international law, and Sweden has certainly shown no inclination to do so.
Assange, therefore, has been left with no real option other than the one he's taken, unless he wishes to sacrifice the rest of his life to uphold other people's principles. And that, too, would lead to him being widely (and with some justification) seen as a martyr. His alleged victims, already the subject of suspicion or outright abuse from some misguided or just downright unpleasant quarters, would be portrayed as complicit stooges in America's vindictive and vengeful persecution of a whistle-blower.
Many years, even decades, after Assange would have been released from a Swedish prison even if found guilty, he would still be locked in an inhuman concrete coffin somewhere the USA with no prospect of release, a figure of hero-worship. It's hard to believe that such adulation is the ultimate fate feminists wish for an alleged serial rapist. Yet by insisting he be extradited to Sweden, it's the one they're arguing for.
We have no answers. Perhaps a Swedish court could somehow have been convened in Britain, in the same way a Scottish court was in the Netherlands for the trial of the "Lockerbie bomber". But even if feasible, the window of opportunity for such a move would seem to have now passed. The refusal of Swedish police to question Assange in London gave him a legitimate case that asylum was his only recourse, and it's hard to see any way back from there.
Between house arrest and being trapped in the tiny Ecuadorian embassy in London, Julian Assange has already faced almost two years of confinement, with no end in sight. (And if there is an end, the best he can hope for it to be is a life in exile.) We're not suggesting that that's a satisfactory punishment, from any perspective, for crimes which he hasn't actually been found guilty of. But due to the blind, short-sighted fundamentalism of those pursuing his sexual misdeeds, it may be all that's on offer.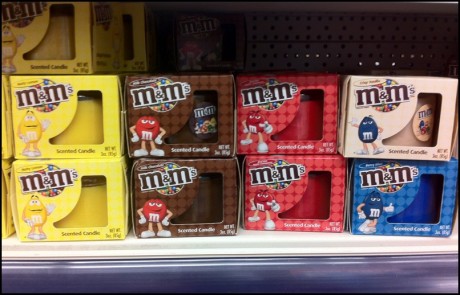 Also, since when did M&Ms even have a smell?