Posted on March 25, 2013 by RevStu
Something's puzzled me for more than 15 years, viewers, and an article I read today brought it back to mind, so I'm going to raise it very briefly in the hopes that someone might even now be able to answer the question for me.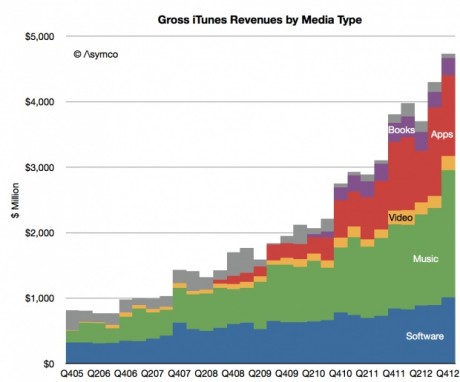 There's something odd about the chart above, isn't there?
Apple makes dizzyingly vast amounts of money selling software, music and iOS apps, yet there's only a teeny tiny little broken yellow slice of that graph accounted for by videos. But hang on – don't we live in the age of video? Aren't we all walking around with amazing high-definition screens right in our pockets? So why aren't people selling us reasons to look at them?
Pop videos are one of the iconic cornerstones of modern culture. Record companies spend vast amounts of money on making promos for singles, but then – incredibly – don't offer people a way of watching them on demand.
The App Store doesn't even have a pop videos section. A couple of half-hearted streaming services offer a pitiful selection from a tiny handful of bands. I've never seen any sort of multi-artist Now That's What I Call Music Videos compilation, and very few artists ever release their own collection, certainly not while the band's still active.
Much the same goes for YouTube, which would initially seem the obvious answer. Only a microscopic percentage of videos are made available through official channels, and much of the time even those are hideously disfigured to the point of distracting unwatchability by advertising "wraps".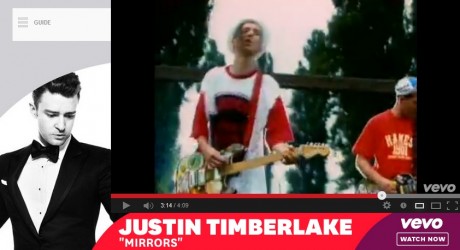 The rest of the time, the industry actively tries to HIDE its work from consumers, often pursuing reflexive or automated takedown orders if its audience tries to do its promotional work for it.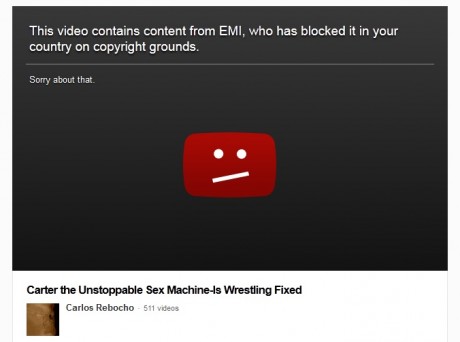 If you're lucky you'll be able to find a logo-strewn version ripped off a TV channel that isn't at TOO crappy a low resolution, but even then you're reliant on an internet connection or mobile signal if you want to actually watch it.
If it's not one of the many videos which are watchable on PC but blocked from running on mobile formats, that is. Funnily enough, the official version of the song in the above example only just reappeared in public view on the artist's own channel – just two weeks ago when I was searching for it, it was invisible. But even now I can't play either the official or unofficial versions on my iPhone.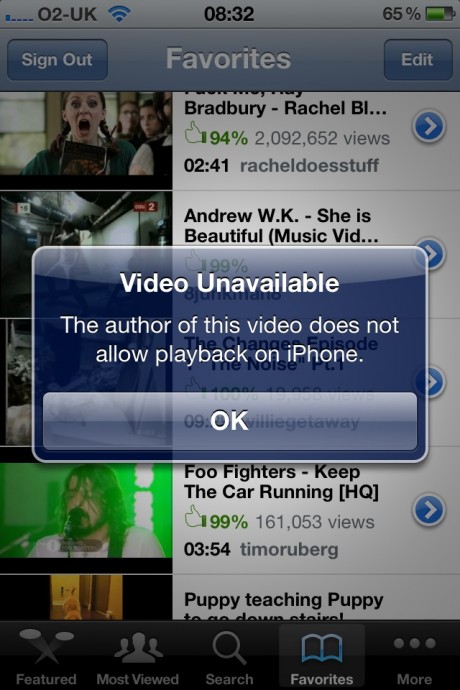 (And that's without even going into what an increasingly-painful chore it is to use YouTube at all these days. If there's a way I can access or link to anything in my list of Favourites now without triggering the spewing-out of the entire thing in sequence as a "playlist", I'm buggered if I can work out what it is. And adding insult to injury, the list is full of "Deleted Video" entries with no way of knowing what they used to be so I can try to find another version.)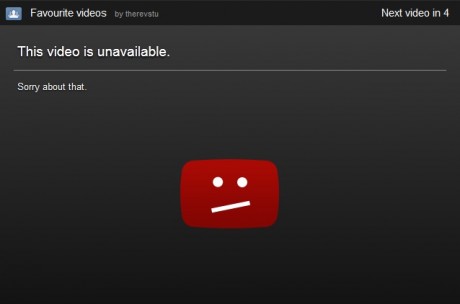 Why are pop videos the most tightly-restricted cultural commodity in the world? Why can't fans of an artist buy their videos as easily as they can buy their songs? Why do record companies spend millions of dollars and huge amounts of creative energy making often-brilliant PROMOTIONAL devices which they then go out of their way to STOP anyone from seeing – let alone giving them money for – other than by watching endless hours of music TV in the vague, remote hope that a truncated, censored, ad-mangled version might just come up?
Seriously, anyone. It's been 15 years and I'm none the wiser. What the fuck?