Posted on June 17, 2013 by RevStu
Hey, videogame developers! Fuck the fucking fuck off with this fucking cuntery: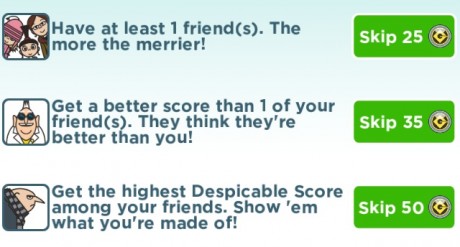 Thanks so much.
I wouldn't mind if things like this were based on Game Center, iOS's built-in social-gaming function suite. But invariably (as here) they're based around Facebook, and if I wanted to give you my fucking Facebook details so that you could "monetise" them I would. But I really, really, really don't, so when you demand them I enter the details of a fake one set up for that very purpose, which obviously therefore has no "friends".
(Hey again, videogame developers! If I wanted you poking your fucking noses anywhere around my Facebook account at all, in fact – never mind for forced-"social"-gaming crap like this – you'd be my fucking Facebook friend. But you're not, and you never will be unless I actually happen know you for real, so get to fuck with ANY sort of Facebook connectivity that's required for in-game rewards. I don't need any more fucking reasons to hate fucking Facebook.)
So when you pile this shit up so much that there's no way of progressing without whoring your game out to a whole bunch of other people like I was your fucking marketing department, you know what happens? It gets deleted, rather than played to the point where I might have paid you some money for some actual game stuff, rather than just to get around the fact that I like playing games BY MY FUCKING SELF.
(Because if I want to socialise, by and large I go out and do it with actual people, in person, rather than trying to persuade a load of adults to play a cartoon running game based on a fucking Disney movie.)
So now, although your game is actually a lot of fun, it's gone and I hope you die of being eaten alive by fucking pitbulls. If that's what you were aiming to achieve with your "social gaming" wheeze, well fucking done, you cockbiting fucking cuntbubbles.