Posted on May 08, 2012 by RevStu
You don't even need to be a particularly alert reader to recall WoSland's worrying piece about recession-hit Bath just a few weeks ago, which drew thousands of viewers from all corners of the net to become one of the all-time top 10 most popular posts on the blog. But this week, Bath's fall from grace was rendered complete.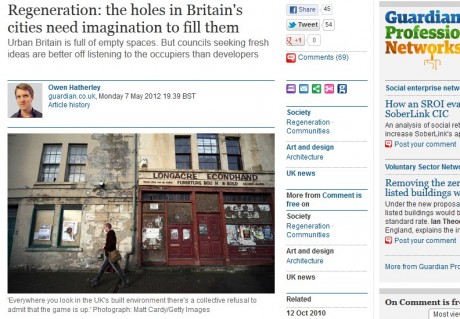 The image above comes from a piece in Monday's Guardian about dereliction and decay in urban England (click the pic to read the story). The feature talks about northern working-class cities like Bradford, Redcar, Sheffield and Preston, particularly the various consequences (and, it posits optimistically, opportunities) presented by long-term disuse, decay and demolition of long-term empty properties. The picture chosen to illustrate it, though, is of London Road in Bath.
It's not, admittedly, the most salubrious part of town. But Bath is more accustomed to being employed to depict the grand Edwardian age in period dramas. To serve as a passable imitation of deprived modern-day Bradford instead may well be seen by the city's inhabitants as its darkest hour since it was bombed by the Nazis in 1942.