Posted on October 11, 2011 by RevStu
This page lists the various contract tariffs for the imminent iPhone 4S on O2. If you add them up, you get some pretty strange results.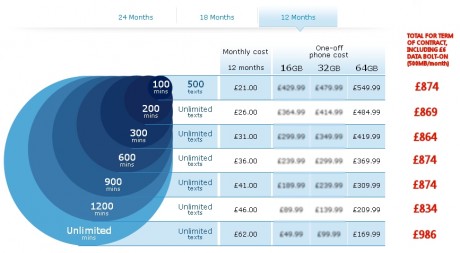 (For the purposes of these calculations, we've worked out the total cost for the term of a 12-month contract, including a £6 "Bolt-On" for 500MB of data, and based on purchasing the 64GB model.)
A little zany, isn't it? Choose to pay £65 less up front, but £5 a month more for 12 months (total £60) and you get twice as many minutes and more texts. Pay another £5 less in total over the contract and you can have another 100 minutes a month on top. Pay exactly the same in total as the 100-minute/500-text option and you can get 600 minutes and unlimited texts instead. Or 900 minutes and unlimited texts, again for the exact same total amount of money, but paying far less of it up front.
And if you'd like 1200 minutes every month instead of 100, and unlimited texts instead of 500? You can have that for £40 less in total, and while laying out just £210 initially rather than £550.
Can anyone explain this to me? Presumably Apple charge O2 the same amount for the hardware regardless of how many minutes are on the tariff, so what possible benefit do O2 get from giving you far more airtime for less money? Surely all they're doing is losing out on earning interest from the upfront payment, as well as getting less in total? Buh?
(Weirder still, if you get a 24-month contract the prices DO go up steadily as you add minutes – over 24 months the 100-minute tariff comes out at £1,036 all in, while the 1200-minute one is £1,288. With an 18-month contract it's similar, except that for some reason 900 minutes cost slightly less than 600 minutes.)
Capitalism is seriously messed-up.
(Incidentally, the 64GB version of the 4S will cost £699 to purchase outright and unlocked. For another £180 – ie about the same total as most of the O2 tariffs – you'd get 12 months of PAYG service from Giffgaff, providing 400 minutes, unlimited texts and unlimited internet, through the O2 network, but with the freedom to change provider any time you like and with much lower costs after the first year. Or if you're a low user, you could spend £120 instead for 250 minutes with unlimited texts and data and free calls to other GG users. The O2 contracts, however, do offer tethering to balance their limited data.)